MINECRAFT PIXEL OVAL GENERATOR
Sometimes making the perfect oval shapes in Minecraft becomes a headache. Sooner or later, we all face the need for oval shapes to build the world of our dreams. Moreover, we can't neglect the logical arrangements of pixels to get a proper oval shape. Therefore, to settle it down, we have designed this fantastic Minecraft pixel oval generator to get you started.
You guys can generate any oval shape with this tool and later save it as an inspiration for your gameplay. Depending on your scenario, you may face a need to have any type of oval shape to transform the pixel art of your imagination into reality. Having command over the change of width and height with 2d live view is just like a dream come true for most Minecraft players.
MINECRAFT OVAL GENERATOR
There are three different oval shapes formats that you can form in this tool thin, thick, and filled. Honestly, no one likes to stick in complex pixels arrangement procedures to get desired oval shapes. Some inspirations in PNG or SVG format will be helpful to do this job conveniently.
Sizing and suitable placements of blocks are essential to have the desired shape in Minecraft. The purpose of the Minecraft pixel oval generator is to make you a pro in accomplishing this job.
Give few seconds to this tool to design your desired oval shape, and you will never regret it. With a high-quality saved picture of the oval shape, you will be able to have an idea of where and how to place the blocks.
FEATURES OF MINECRAFT OVAL GENERATOR
Using the oval generator saves you from many barriers that come while forming oval shapes in Minecraft. Some beneficial features of Minecraft Pixel Oval Generators are stated below:
It gives you the opportunity to create a perfect oval shape.
You can easily change the width and length of the figure as per your requirements.
You can generate and preview your oval shape in the filled, thick, and thin format.
There is a section showcasing the block count at the top to get a perfect idea of the required blocks.
This tool provides you guys with high-quality, downloadable images.
You are allowed to downscale or upscale your shape to have a clear picture of results.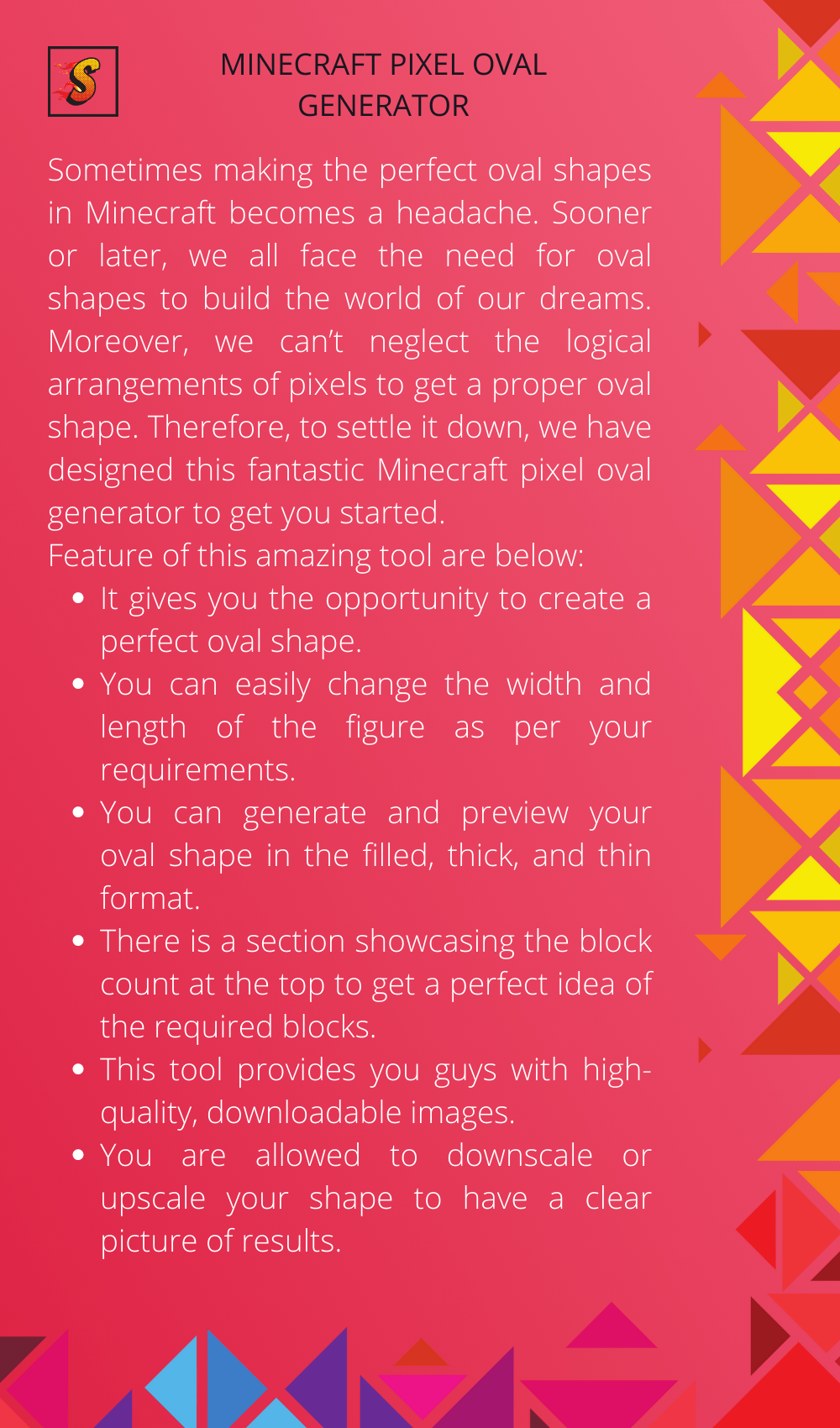 HOW TO USE MINECRAFT PIXEL OVAL GENERATOR
Using this tool for generating oval shapes is relatively more straightforward than creating Minecraft artifacts without any substantial inspiration. Understand the usage of width and length to get your desired results in the form of a chart. Changing the value of width will also fluctuate the height and vice versa for proper shape adjustment.
With the scaling feature, you can zoom in or out your desired shape. Remember, this feature doesn't have any connection with the blocks quantity. However, blocks quantity fluctuates when you make changes in either width or length values.
Moreover, you can download or save the picture in your PC to use it for future references. Just click on either SVG or PNG buttons to save the oval shape chart in your favorite format.
Moreover, follow this detailed guide to generate the oval shape in multiple forms as per your requirements.
BUILD A PERFECT THIN OVAL SHAPE
This amazing tool allows you guys to generate the oval shape with a thin structure. Being a Minecraft player, you will be familiar with the importance of having this feature in your arsenal. However, it's easier to generate oval figures these days with the help of Minecraft oval generator; just follow the below steps:
If your page is down, scroll it up to the toolbox.
Have a look at the right side of the scale feature.
One option from filled, thick, or thin will already be selected.
Drag the options down to get your favorite one, i.e., thin in this case.
BUILD AN IDEAL THICK OVAL SHAPE
Shaping the oval in the thick structure requires the same steps as for the thin shape. The list doesn't contain many options. Therefore, you will see this option easily; just select the thick option from the dropdown box, and you are good to go.
BUILD AN IDEAL FILLED OVAL SHAPE
You might not be worried about colors right now and certainly looking for a filled shape that only gives the pixel arrangement idea. Just select the filled option in the given list, and the shape will transform into the filled format.
FAQs
How oval generator helps in real-time Minecraft gameplay?
Minecraft oval generator gives you the exact block count and the demonstrative image showcasing the actual block arrangement in shape so that you can build the artifacts of your dreams in Minecraft world.
How to draw relatively more oversized oval shapes with perfection?
You can easily generate the bigger oval shapes with the help of this excellent tool, Just create the shape with the desired dimensions and use the scaler to upscale the resultant chart to get a good idea of pixel blocks placement and replicate the shape in Minecraft game while knowing the exact number of required blocks.