CLICK SPEED TEST | CPS TEST
Speedwallop proudly presents one of the most anticipated challenges in the Minecraft community Click Speed Test, also known as the CPS Test. As it is evident from its name, this challenge allows you to test your speed with which you can click with your mouse or touchpad.
So what this challenge does is it counts the number of clicks you get with your mouse in a specific time frame and showcases your result in the form of CPS(clicks per second). Moreover, you guys can earn exciting ranks if you get high clicks.
CLICKS PER SECONDS GAME & CPS TEST
CPS is an abbreviation for clicks per second. It is a common term used among gamers. Meanwhile, the cps game refers to this exciting online challenge where users compete for maximum clicks within a specific time.
Most importantly, the results in this game are performance-oriented. At the same time, users can earn superb rewards based on their performance in this test. Simply put, your ranks depend upon how fast you can snap your fingers across your mouse or your touchpad.
Using the Minecraft PvP/PvE Guide "Click Speed Test" is quite easy. All you need to do is navigate through this site and select your desired time frame from an extensive list, then start playing at high speed by clicking in the click box as fast as possible!
HOW TO GET MAXIMUM CPS SCORES
Well, we cannot easily attain the insane amount of clicks certainly when we are relatively new in this game. So if you are new to this thing, practice with a consistent approach to get higher clicks, eventually breaking the world record.
Moreover, you guys can opt for different tests, such as ◍ jitter click test, ◍ butterfly click test, ◍ drag click test, ◍ kohi click test, ◍ badlion click test, and ◍ flying bawl click test, to enhance your skills and increase your number of clicks massively.
But do remember that using fancy clicking technique techniques may lead to a ban in most Minecraft Multiplayer Servers if the anti-cheat algorithm considers it inhuman. So, do this at your own risk.
Furthermore, if you have a sound gaming mouse, your chances of getting the most cps score increase by miles. In addition, pay attention to your arm and hand muscles and keep practicing. You will eventually start getting good results in this click speed test.
FEATURES & ADVANTAGES OF CPS TEST
This exciting game has been around since the Minecraft gaming community made it big into the gaming world. Moreover, this game holds plenty of features, but the one exclusive feature that stands out is its simplicity.
Therefore, anybody from any background can easily play this game and participate in this tremendous challenge. Meanwhile, other key features of this game are listed below:
This game is cross-browser compatible, making it super easy for users of multiple browsers to play it without any considerable hindrance.
We all are familiar with the fact that the dynamics of internet traffic are changing, and most of the internet's traffic is shifting from Desktops to Mobiles. Therefore, our UI/UX & Developers team has enabled mobile users to easily play this game on their mobile devices with a relatively better user experience.
Last but not least, our delighted users can share their scores on their social media platforms and challenge their friends and family members to beat their records of this exciting challenge. So you can check your click speed on this game and have fun with your friends.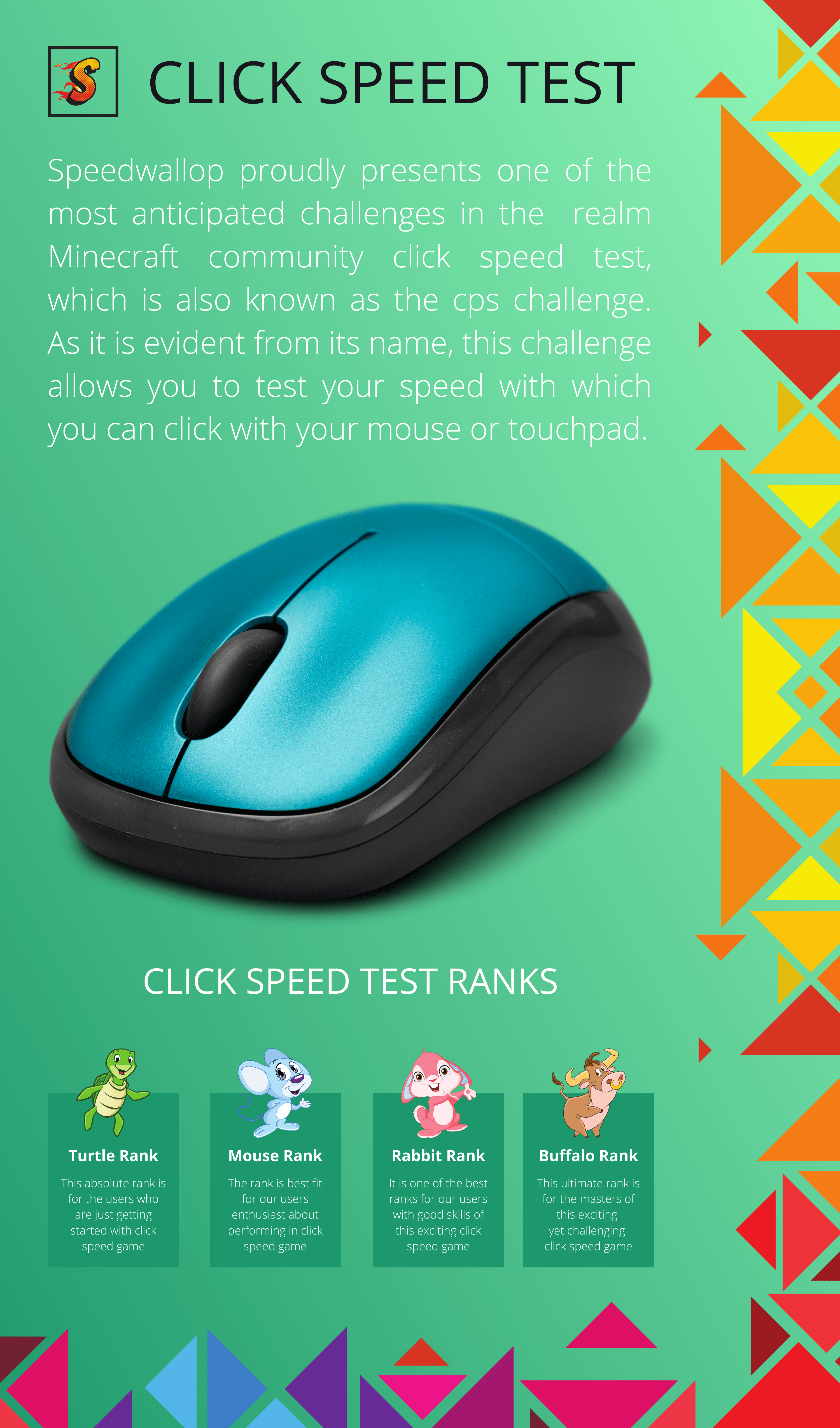 HOW CLICK SPEED TEST SERVES THE MINECRAFT COMMUNITY
If you are a Minecraft enthusiast, you might be familiar with the fact that clicking plays a major role in competitive Minecraft gaming. So due to this fact, this game plays a significant role and serves the gaming community of Minecraft as it allows its users to test their CPS limits and practice to enhance their skill set to a good level and ultimately attain more than average cps scores.
HOW TO PLAY CLICK SPEED TEST
As we have discussed earlier, this game is pretty simple to play, and people from any background can easily get comfortable with this game just from the very beginning.
So, you guys can begin with this game by simply clicking or tapping on the "Click Me To Start The Game" button. And once it is started, start tapping your mouse or touchpad button with your fingers at a consistent speed.
After the time limit, a message screen will pop up showcasing your score and rank. Meanwhile, your tapping speed will determine your status in this game so pay attention.
From the pop-up screen, you guys can either go on with another round of this game or switch to another challenge. Additionally, you guys can share your scores and ranks on social media platforms with your friend's circle and challenge them to beat your leaderboard record if they can dare.
RANK DISTRIBUTION CHART
| # | Ranks | CPS Score |
| --- | --- | --- |
| 1 | Buffalo | 11 or More |
| 2 | Rabbit | 09 – 10 |
| 3 | Mouse | 06 – 08 |
| 4 | Turtle | 01 – 05 |
Click Speed Test Rank Distribution Chart
FAQs
What is a good clicking speed?
It all depends upon what technique you are using, being precise. In the case of regular clicking, anything above ten clicks in a second is a decent and average cps score.
How to get good at Minecraft PVP with a bad CPS?
In Minecraft PVP, aim accuracy is one of the key factors to dominating your competitor so let's say your CPS score averages around 6-7. You can still provide decent competition to your competitor if you have good aim accuracy. So, a 6-7 CPS score is not very bad, but it's not very good either, and you can always improve your click speed via practice.
How does mouse DPI affect gameplay?
DPI is a measure of mouse sensitivity and directly affects gameplay, especially in first-person games. Higher DPI means higher mobility of the cursor on the screen. A balanced DPI is always better than the higher one and varies from person to person as per their comfort level.