SPACEBAR COUNTER
Tap on the play button below and start hitting your space bar key to join the best keyboard challenge right now. Hurry up; use this exclusive online spacebar counter to test your limits with exciting challenges waiting just for you.
Subsequently, this tap speed counter is designed to maintain the best user experience possible. So, far it's been a tremendous effort from our UI/UX team. Nevertheless, If you find any difficulty using this counter or have any suggestions, we will always be open to improvements. Feel free to contact us or drop a message.
SPACEBAR SPEED TEST & SPACEBAR CLICKER
First and foremost, if you are fond of testing your limits and challenging yourself, this counter tool is just the perfect place to assess your spacebar click speed with a time challenge of your own choice. Here you can find out how fast you can hold down and tap the spacebar key of your keyboard.
Most Importantly, there is no such requirement of a fancy app or software installation to use this space bar counter. All you have to do is, connect to the internet and navigate to speedwallop.com to use this simple yet precise and powerful spacebar tap counter.
DESKTOP SPACEBAR COUNTER
It should be noted that our spacebar click speed checker is optimized for desktop users mainly. So, they can use this counter on their desktop or pc to test and improve their spacebar tapping speed with loads of practice from scratch.
Apart from testing, a nice amount of practice here on this counter can give you a healthy edge while playing video games, where a hint of time can come in handy and turn the tables around.
So, don't wait; gear up and start practicing your spacebar tapping to enhance your skills to god level.
Moreover, you can also invite your friends and encourage them to practice here from scratch and challenge their limits. Without a doubt, a sound and competitive squad will lead you towards the new horizons of triumph.
MOBILE SPACEBAR COUNTER
This website's responsive design makes our mobile users able to play this tapping spacebar game on their mobile devices. Unlike the desktop version, this game's mobile version can be a little bit different experience for you.
So, use your mobile's built-in keyboard to take part in this space button counter challenge to test your limits. Apart from this, you can also use external mobile gaming keyboards to practice your spacebar tapping speed on mobile devices so that you can take your mobile gaming to the next level.
SPACEBAR CHALLENGES
We have the ultimate challenges to offer here on this website for our delighted users. Now, users can test their restraints by challenging themselves with ultimate spacebar tapping. Exercising your skills here will not only polish them but will make you enable to embark on a new journey of success in the gaming arena.
Here are a few challenges waiting for you that we are offering at this time. So, you can beat the highest spacebar score and be the next spacebar hits, world record holder to join the leaderboard yourself.
SPACEBAR SCORE LIMIT CHALLENGES
Finally, now you can evaluate your space bar tapping speed with this ultimate score challenge. All you have to do is just select a score limit for yourself and start hitting the spacebar. This way, you can check how much time in seconds it took you to reach your target spacebar hits.
Particularly, if you reach your target with ease, challenge yourself further by increasing the target hit score, as surely who would defy improvement in their skills. Besides, if you find it hard to maintain your hit score as per requirement, then practice, actually practice a lot as it is said: "practice makes a man perfect."
Here is a list of a few spam-free score challenges awaiting you right now.
Spacebar 100 Hits Score Challenge
Spacebar 300 Hits Score Challenge
Spacebar 500 Hits Score Challenge
Spacebar 1000 Hits Score Challenge
TIKTOK SPACEBAR CHALLENGE
As we know, the TikTok spacebar challenge is quite popular nowadays, and people are not getting bored with it. So, why should we stay behind? Without wasting time, tune into speedwallop.com, start recording your progress, set a hit score record for your friends, and challenge them if they can beat you in this viral TikTok trend without any hack or cheat code. Show them what you are made of via zoom and have zero competition.
SPACEBAR COUNTER GHOST
We are familiar that few people are shy of exposure in the gaming community, they like to stay behind their computer screens, no fancy things, and dress ups that is how some of the video gamers are. We respect their choice and, most notably, their privacy. Therefore, we have made this ghost challenge especially for them. So, they can use this counter irrespective of any bot or quirkbot challenge with ease.
FEATURES OF SPACEBAR COUNTER
Users can use this online tap counter to check how competitive they are in spacebar tapping. This counter has four main interactive sections.
The first section indicates the real-time score and timer ticking. So, you can tally your spacebar clicks along with your HPS score.
The second section is where the real action happens. Therefore you can use this section to start the game by tapping on the play button.
Meanwhile, the third section consists of a popup message which pops up when you are done with the first round of your game. It indicates your rank, score, and HPS score, along with a message specified for you based upon your performance.
You guys can share your scores on social media through this section. Moreover, you can tap on the reset button or anywhere outside the popup message to play this game again.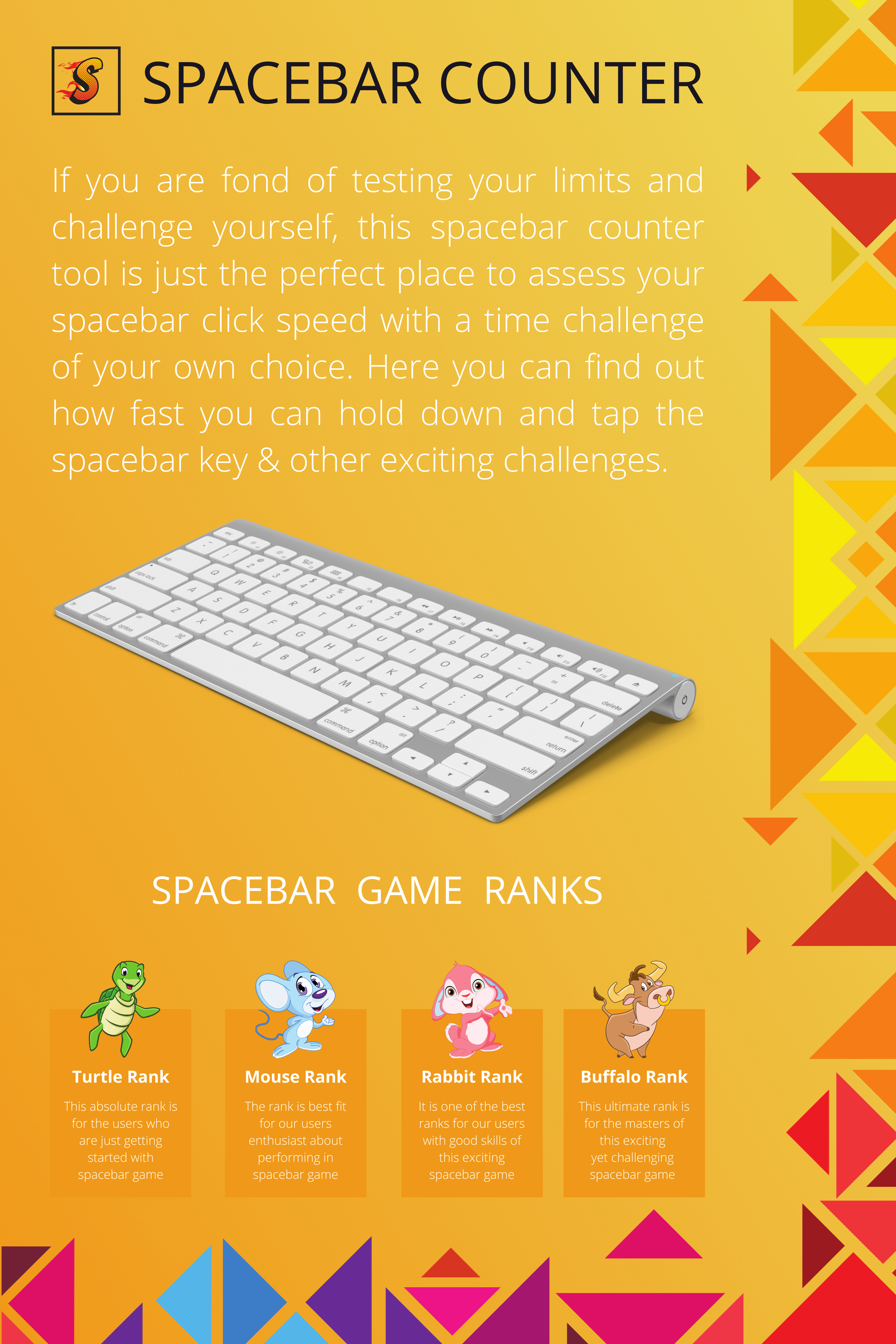 The core features which makes us apart from other leading websites,
RESPONSIVE DESIGN
Our website has a responsive design that makes it both mobile phones and desktop friendly and compatible to use on either device. Therefore, PS4 users, users using Androids, Tablets, IOS-based iPhones, and iPads can easily participate in this spacebar competition. So, break the egg and start practicing the online spacebar clicking quiz, irrespective of the device you are using.
CROSS-BROWSER COMPATIBLE
Cross-browser compatibility is one of the hardest things to achieve, especially if you are developing a tool such as a space button click counter. Shout out to our developer's team for this milestone. Our website is fully optimized for well-renowned internet browsers such as Opera, Safari, Internet Explorer, Google Chrome, Firefox, Mozilla, and Microsoft Edge.
HIGH PERFORMANCE
Now users can use this online counter in a high-performance mode without any lag or glitch, as this click counter is highly optimized as per the latest standards, which boosts its performance. Moreover, users can save their progress by sharing their scores on social media platforms with a simple click to fire up the competition and keep a count of their spacebar hit progress.
FUTURE UPDATES
The core feature of speedwallop.com that we are proud of the most is that we don't let our users down in the middle of something. We believe in a strong relationship with our users so we can grow together. We are always working tirelessly to bring some more spacebar quizzes and challenges for you guys.
FREE & EASY TO USE
This tap counter is purely free to use and share online, and each of its features is now unblocked. Moreover, our UI/UX team's efforts have made this calculator simple and easy to use for users irrespective of their background knowledge and experience.
HOW TO USE SPACEBAR COUNTER & PLAY SPACEBAR CHALLENGE
Unquestionably, most of you guys wouldn't find any difficulty using this spacebar counter as our UI/UX team has designed this click counter by following the best industry practices. But, let us discuss its usage for the record.
Absolutely, there is no need to download any fancy application, VPN, or software. All you need is a decent internet connection, a sound keyboard, and obviously a pair of fingers that you use in video gaming. Firstly, connect to the internet and navigate to speedwallop.com using a browser, and you are good to go. Now, there are a few modes available for this spacebar counter.
The first one is where you can simply hit the most extended horizontal key on your keyboard, also known as the space button, to tally your spacebar hits and determine your score.
The second one is where you can challenge yourself with a time limit to figure out how many times you can hit the spacebar under a specific timeframe window.
The third one is where you can check your spacebar hitting ability by setting a spacebar score or spacebar hit limit to find out how much time it took you to meet your score or space button click target.
Last but not least, there is a mode where you can increase the competitiveness of your spacebar quiz by involving two-variable which are score limit and time limit both in your test. So, bring it on and be a part of this 2x spacebar competition. Moreover, you can also practice this mode to be more competitive in the Minecraft server known as Kohi.
FAQs
What is the world record for pressing the spacebar?
The current world record holder has hit the spacebar 145 times in 10 seconds, 210 times in 20 seconds, 258 times in 30 seconds, and 552 times in 60 seconds or a minute.
How many times can you click the spacebar per second?
The current highest score for spacebar clicks per second is around 14 hits. But as long as you are keen to practice, you can be the next world record holder.
What is the highest score on the spacebar counter?
Right now, one of the users holds the record of the highest score of 14.5 hits per second. Try the spacebar challenge right now to be the next highest spacebar score holder.
What is the spacebar key?
Most of the users are familiar with what the spacebar key is, but let us clear for newbies that the spacebar is the longest horizontal key placed at the middle bottom of the keyboard.
How to fix a spacebar key?
Keep your keyboard clean to avoid such hazards in the first place. Use a cotton stick to clean the loose endings of the spacebar. You can also use a screwdriver or flat-surfaced tool to pop the key out for cleaning. If all this does not fix your spacebar, then it is probably time to replace it.
How to click the spacebar faster?
The key secret is to practice tons of times. Most people tend to hit the spacebar faster with two fingers. So, hold the spacebar down with one finger just above its base and tap it with another finger to be as fast as possible.